I love yoga. I am admittedly biased. I have been practicing yoga for 15+ years and teaching for 14 years. It's an amazing practice for all sorts of reasons.
I am not sure I would survive motherhood well with out the tools I've learned over the years practicing yoga. My practice has changed so much over the years as my life and my body has changed. I have been pregnant and/or nursing continuously for the past 8 years. I have four little ones. It is a full plate right now. One of the practices that refreshes me and grounds me is this pose.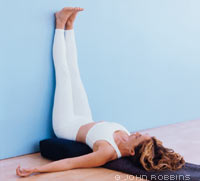 See the link below for setting up the pose.
http://www.yogajournal.com/article/beginners/viparita-karani/